Collection GOLD by CONHPOL
The GOLD Collection by Conhpol is the fruit of passion for creating beauty and devotion to the craft, as well as the need to provide products of the highest quality and observing global trends in the field of footwear design. The exclusive GOLD styles were created with the best, most expensive and unusual materials. These unique shoes are a response to the needs of self-confident and demanding men who seek unconventional footwear that will make them stand out.
ITALIAN, SOPHISTICATED STYLE
Simple in form, classic Oxford shoes with an extraordinary character.
The upper lacquered with the Gold Perlato effect, in a deep black color, catches the eye with golden reflections.
A smoky nickel-colored chain adorns the Italian leather sole.
THE POWER OF DETAIL
Black, elegant loafers with an Italian-style buckle.
Made of the highest quality soft calf leather.
A very elegant model with a sophisticated and slender line.
DISTINCTED GALANTERY
Black, tied Derby shoes made of the highest quality calf leather.
Chic and timeless, sparingly decorated with holes in the upper.
Perfect for lovers of classics with a tasteful, subtle accent.
REBELLIOUS ELEGANCE
Classic, black Oxfords in an extremely elegant edition.
Top-quality soft leather, universal black color and a slim line.
Extremely distinguished in character.
BLACK WITH A BRAND-NEW LOOK
Oxford shoes in shades of black, a fresh look at the timeless classics flowing from an original combination of three materials: patent leather, grain leather and leather imitating natural horse hair.
OUTSTANDING ELEGANCE AT ITS BEST
Classic Derby shoes made of natural, exotic Indonesian python leather (CITES certified) with an antiquated gold effect.
Italian beautifully decorated leather sole.
A PINCH OF EXTRAVAGANCE
A unique edition of Derby shoes, for enthusiasts of bold combinations.
The model is made entirely of the highest quality cowhide – imitating zebra skin.
CLASSIC WITH CHARACTER
A classic model in warm brown tones, distinguished by unconventional combinations of materials.
The model is made of natural leather imitating a crocodile, with a tongue made of goat leather stylized as a horse's hair.
FOR LOVERS OF DISCREETLY DISTINCTIVE ELEGANCE
Brown Derby shoes made of certified Colombian crocodile leather with a hand-finished leather sole.
Due to the class of the leather, made entirely by hand from the highest quality components.
CLASSIC AND MODERNITY IN ONE
Noble, high-quality calfskin and a manual process of finishing and sewing the upper elements give a classic look.
The sole is hand-decorated with golden jets in a leather rim.
RESONANT NOTE OF EXTRAVAGANCE
Brown Derby shoes with rounded toes, made of original ostrich leather with characteristic, dark brown insets. One-of-a-kind footwear.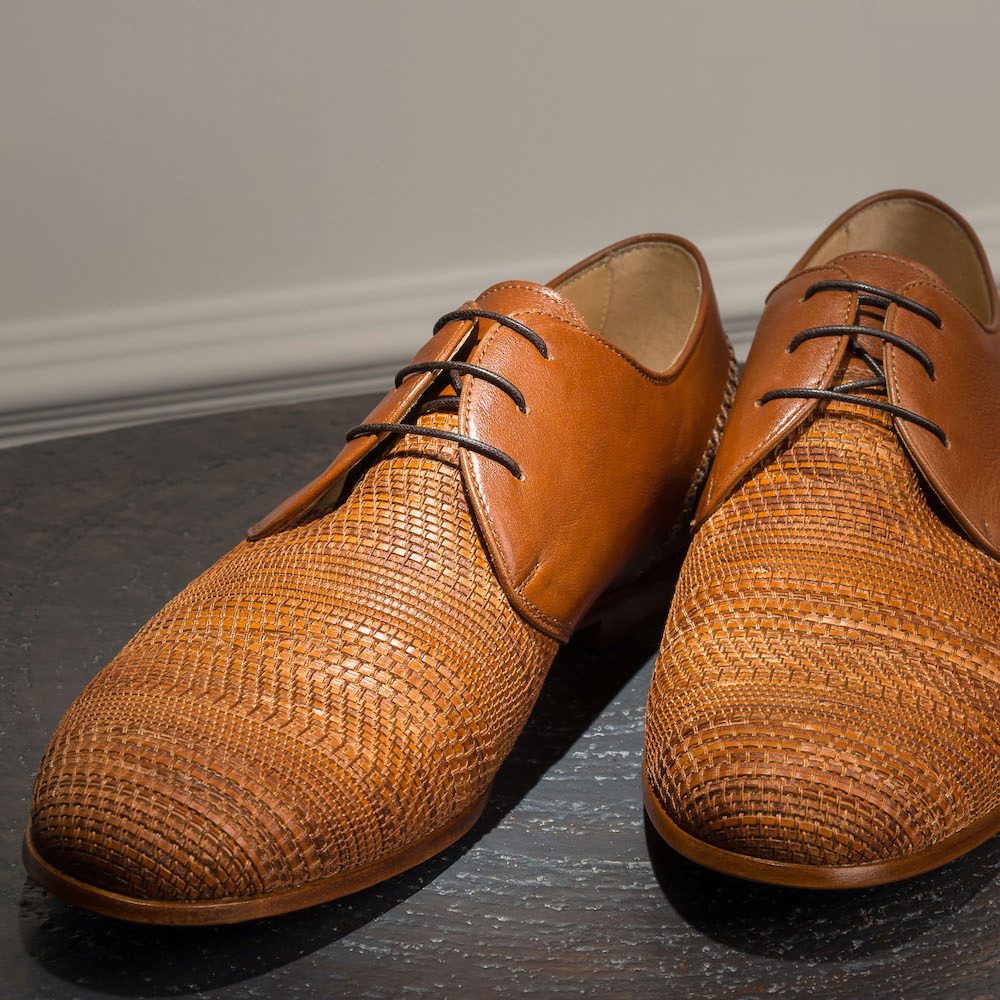 SUBLIME ELEGANCE
An original shoe, with the highest-quality weaving, hand-finished, with sewn elements of the upper and a stitched sole made of Italian leather.