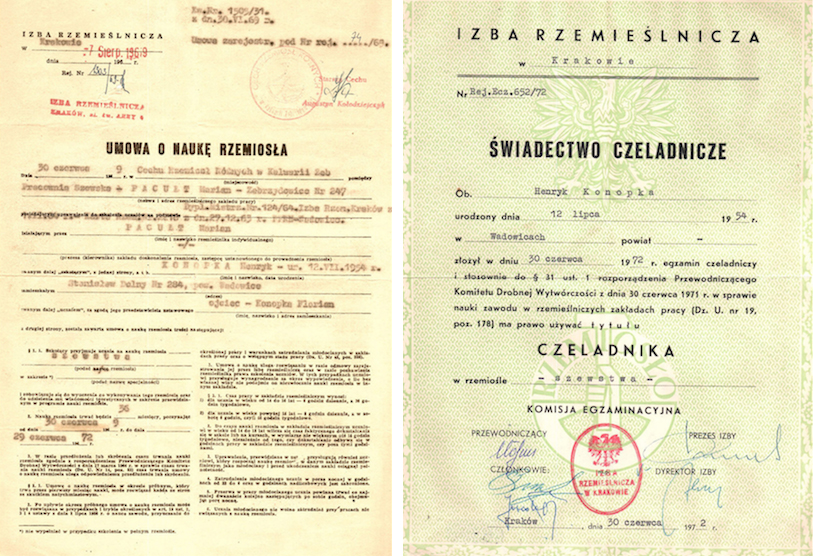 THE BEGINNING
30 june 1969
Fifteen-year-old Henryk Konopka, future founder of the Conhpol brand, concludes an agreement regarding craft training. Three years later, on 30th June 1972, he receives the Apprentice Certificate in the craft – shoemaking, issued by the Chamber of Crafts in Cracow.
The Master's Title
1977
5 years after passing the Apprentice Exam, Henryk Konopka receives the Master's title in the craft.
FAMILY
1979
Marriage of Henryk and Janina gives a new dimension to the history of Conhpol. From that moment the company is a family business, being co-managed and co-developed under key values.
TIME OF DEVELOPEMENT
1980's
Dynamic development of the company, full of new challenges, ideas and creative work. First flagship models of shoes are created.
FIRST PLANT
1987
Henryk Konopka had been working at home before. A new building makes new perspectives for development available and is located next to the house in Stanisław Dolny.
FURHTER DEVELOPEMNT OF THE COMPANY
1991
The name Conhpol is officially registered and the development of the company is more and more rapid due do the development of the first plant.
CONHPOL BIS, DYNAMIC, RELAX
2000- until now
Traditions, initiated by Henryk Konopka (Conhpol), are continued by his children: Krzysztof Konopka (Conhpol Bis), Katarzyna Dziedzic (Conhpol Dynamic), Carolina Tatka (Conhpol Relax), by creation of different commercial entities of a different type of shoes, excluding the possibility of competitions between them.
SECOND BUILDING
2008
Another building offers a new working surface due to which the company is reacting faster to the demands of the client.
CONHPOL ELITE
2009
A Conhpol Elite store chain is created which is run by the youngest of the daughters- Klaudia Konopka. It is a place where you can find all family brands. Conhpol, Conhpol Woman (producent Conhpol Bis), Conhpol Dynamic, Conhpol Relax.
CONHPOL GOLD
2015
Almost forty years of company history was honoured by a unique collection. Gold by Conhpol are the best materials, sophisticated patterns and the highest standards of performance. The collection is joined to the offer of Conhpol Elite offer.
TODAY
Conhpol remains a family company until today
the continuation of which is provided by the youngest son of Henryk, Sebastian Konopka.